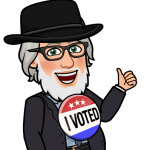 For what it is worth, you have my vote young man. You are a quintessential leader... a person full of love that gives so much to others. That is true leadership.


I would encourage others that know this young man to endorse him as well. He has my endorsement with absolutely no reservations.
---
If your actions inspire others to dream more, learn more, do more and become more, you are a leader.   John Quincy Adams, 2nd President of the United States of America
---
I will share this post on my Twitter feed and am also cross-posting it to the Gem Community in order to get more exposure.