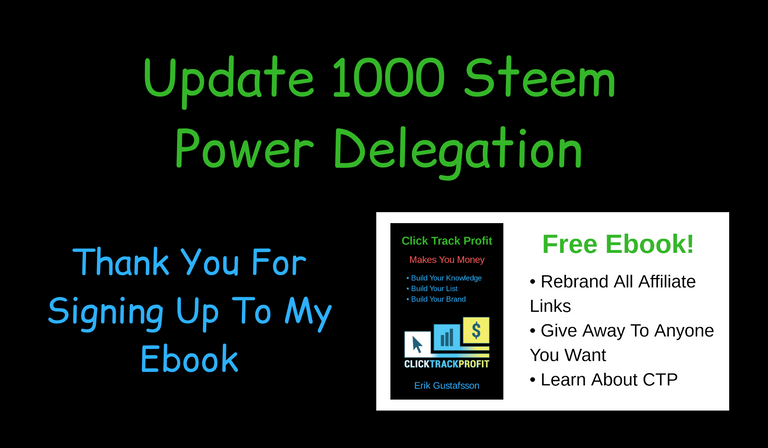 Made in Canva
Update On 1000 Steem Power Delegation Giveaway
So as I said in the post yesterday where I launched my new ebook, Ebook Just Launched: CTP Makes You Money - Plus Giveaway Of 1000 Steem Power Delegation, I will now update the progress of my 1000 SP Delegation giveaway, and so far 9 people have subscribed to my list, and 7 of them are required to get a delegation, the other 2 owned a stake of more than 500 SP already and therefore did not qualify, you can check the requirements in that post.
The delegation comes in the form of an 18 week lease using Dlease.io, and I have just paid the lease for all 7 qualified subscribers, and they are right now listed in the Dlease Market on the first page, so it should take less than a day for them to be filled, and normally it's much faster than that.
Part 1 - 500 SP Delegation
A very big congratulations to @bradleyarrow, he was faster than a lightning bolt and grabbed the first spot before anyone else, and that rewards him with a delegation of 500 Steem Power for 18 weeks, well done and thank you very much for signing up to my list and ebook.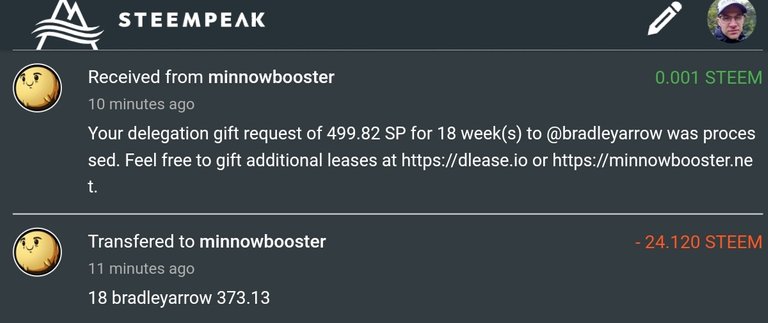 Screenshot from Steempeak wallet
Part 2 - 50 SP Delegation
So the second part is a 50 SP delegation to the next 10 subscribers that meet the requirements, and so far 6 people have signed up and are qualified for this, and they are.
@elizabetamt
@howyf2
@ianballantine
@maddogmike
@elianaicgomes
@blainjones
A very big congratulations to you, and thank you very much for signing up.

Screenshot from Steempeak wallet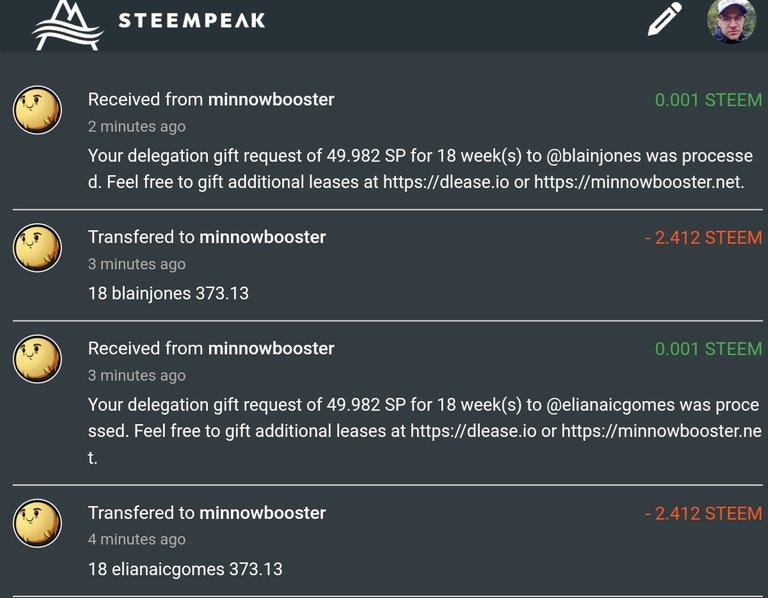 Screenshot from Steempeak wallet
4 Spots With 50 SP Delegation Left
So as of now there is 4 spots left with a 50 SP Delegation up for grabs, and you can read the requirements in yestedays post.
Sign up with your email and confirm your subscription by clicking this banner.
Personal Note
In the coming 2 days I will be away and going to the funeral for my grandmother, I will still update this delegation giveaway and do my Actifit reports, plus my project @thisisawesome, but it does still mean I will be less active for the next few days, and I hope you can understand that.
Thank You!
Thank you very much for reading this post and a big congratulations to all rewarded subscribers, I hope this will help a lot in your journey on Steem and CTPtalk, and ...
Stay Awesome!
Sincerely,
Erik Gustafsson
https://flaxz.dblog.org/
https://www.ctptalk.com/@flaxz
This is all my own personal opinion, do your own research before investing, and seek legal counsel if uncertain.
---
Join me on Discord: https://discord.gg/F6cCZ2N
Join me on ClickTrackProfit: https://clicktrackprofit.com/flaxz
Guide: How To Create - Your Own Sales Funnel
---
Sign up for free to my other email lists and ebooks, click the banners below.

---
Originally posted on Erik Gustafsson. Steem blog powered by ENGRAVE.