As October is winding down and Halloween is coming up tomorrow, I felt it was time to look forward to the month of November and the upcoming Thanksgiving holiday. Most people look at Thanksgiving as a day (or two or three) to be together with family, watch football on TV, and gorge themselves on turkey, dressing, desserts, and the like. I'd rather take a step back and look at Thanksgiving more in the spirit it was created...a day to give thanks. I personally prefer to give thanks to our God and creator, Yahweh, but you can be thankful for what you have regardless of your religious beliefs. But we don't have to think about being thankful just one day a year. It is good to frequently ponder the things we cherish (HERE is a wonderful post on the benefits of having an attitude of gratitude). Therefore, I propose we have a Month of Thanksgiving.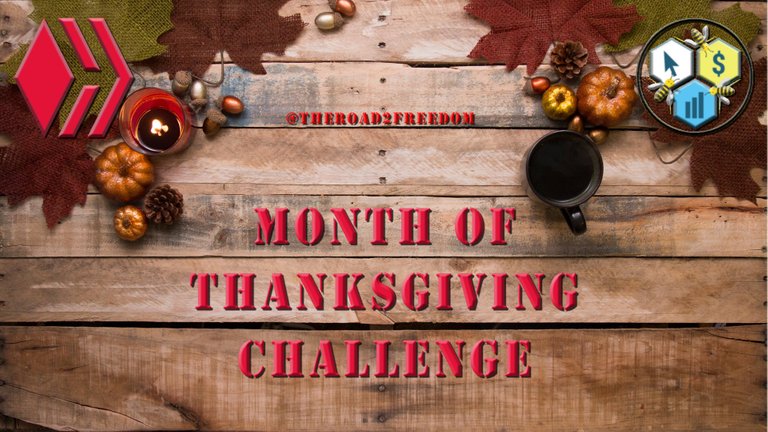 Photo by Caleb Wood from Pexels
With that said, my challenge to you is to think about something you are thankful for every day next month. It's not hard. The goal is to find something different each day of the month that you appreciate and post about it. It could be about anything you are thankful for. When you make your post, please put #MOT in your title so other people can find it. And we are not keeping score, so if you miss a day, just start back up the next day. You can publish your post wherever you want, but remember, the more places you publish it, the more people will be able to find it (you can check the tags of this post for a few places you might want to include your post).
After you have completed your Month of Thanksgiving post, the next step is to find three other #MOT posts and let them know you appreciate their post and how it effected you (or something it reminded you of) and maybe even give them an upvote. Who knows, their post may give you an idea of what to write about the next day. The object is to build upon that attitude of gratitude and share in the benefits.
Personally, my goal is to create a photographic representation of my daily post and submit it to the Family History Community so as to further document and share my thoughts and life lessons with future generations. Feel free to post there if you have nowhere else to do it.
If you follow through with this challenge every day of November, not only will you feel better about yourself and those around you, but you will probably find yourself less stressed and enjoy the holiday more (even if you don't get to celebrate it as you normally would due to COVID-19). What's more, you should see a financial benefit as well. You will have made 30 additional posts for the month and 90 extra comments (plus who knows how many comments and upvotes you will receive). Consider how that would effect your creation/curation rewards.
So, the gauntlet has been thrown down. Will you answer the challenge? Will you share this post in order to spread the word about cultivating an attitude of gratitude for the month of November?
I am thankful that you have read this far and have considered partaking in this challenge.