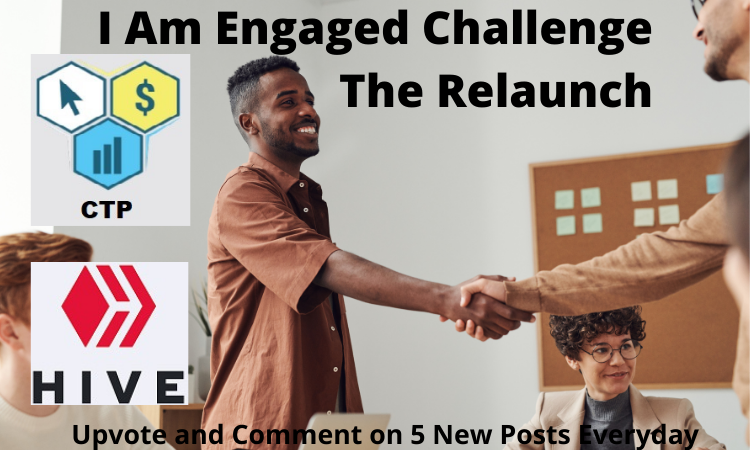 Good Morning Everyone,
A few months ago I introduced a new challenge for you. In the tradition of "I Am Alive", I started the "I Am Engaged" challenge.
I have gotten away from this challenge for a few weeks so today I am relaunching the IAEC.
I got the idea for IAEC from watching the CTP "Crypto Monday" telecast on 6/8/2020 (https://www.facebook.com/ClickTrackProfit/videos/264789704759505), Jon talked about the 5/500/5000 plan at about minute 14:00. I would suggest you watch the entire video but this section explains about how we get to 5000 Hive Power and become a Dolphin at Hive.
The journey to Dolphin all begins with Engagement.
So here is how this will work.
Engage with at least 5 people everyday by upvoting and commenting on their posts at CTP Talk, PeakD or Hive.

Follow the people you engage with.

Write a post on your CTP Talk, PeakD or Hive account listing the usernames and titles of the posts where you upvoted and commented. I would also write a short comment about their posts.

Use the hashtag #IAmEngaged to spread the word
That's it! Easy Peasy!
So here is my first post for the relaunched of the "I An Engaged Challenge" for 10/13/2020
On To Dolphin Status,
Steven Ackerman
P.S. If you have suggestions please let me know how we can improve this challenge
I invite you to join my Telegram Group.



Feel free to stop by and make a comment or ask a question.
Plus 1 Success Here is a free gift. No opt in required!