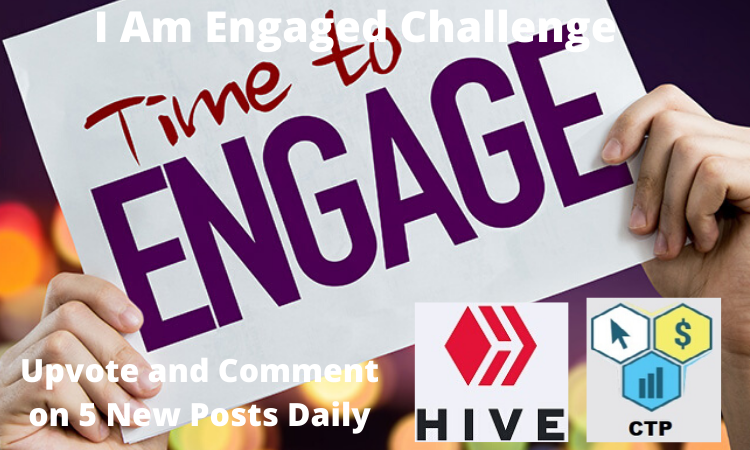 Hello Everyone,
I want to thank everyone that joined this challenge and gave feedback! I got some good ideas on how to improve. Keep the ideas coming.
I haven't had a chance yet, but I will be changing up the format of the "IAmEngagedChallenge" very soon to include it with another post. I want to spend some time creating interesting content so I can get ahead of the game a little bit. The new format will look more like the post I did for day 18 "Who is This Guy? + IAEC18, Change is Good!" I hope you will enjoy the changes.
It is Day 21 in my "I Am Engaged" Challenge
For more information about this challenge check out the Day 1 post.
It all starts with Engagement
So here is the Challenge.
Engage with at least 5 people everyday by upvoting and commenting on their posts at CTP Talk or Hive.

Follow the people you engage with.

Write a post on your CTP Talk or Hive account listing the usernames and the post of the people where you upvoted and commented. Also write a little bit about the post you are highlighting.

Use the hashtag #IAmEngaged to spread the word
Today's Content
Here is todays post for the "I An Engaged Challenge"
I upvoted and commented at
On To Dolphin Status,
Steven Ackerman
P.S. If you have suggestions please let me know how we can improve this challenge