I have an Idea; I want to create this great business what do I do next.
Ok, its time for the white board, pieces of paper or even use a Mind Map program. However you do this the first step, the concept is to Plan and to make a good concise plan.
Ideas are great but too many people just jump right into it without giving any thought to the direction it might take. Online businesses are so easy to start without thought, Register a domain, get some hosting and create a website , but where do they go from there. ??
When a proper plan is put into place then the business at least has some footing to work with.
Think of it like a house, the first thing you do is have an idea, then you map out that idea into a drawn up plan, in that process adjustments can be made and more ideas can be put into the plan.
After the plan comes the build and without good strong footings the building will not be structurally sound
So where do you start with the plan. Start with the concept. Mind mapping is a great tool because with a mind map you start with the central concept and then you branch out.
Below is just a very brief diagram of a plan for a website, remember it doesn't matter how many branches you have, in fact the more the better so the site is well thought out. Try and think of every contingency. Be as comprehensive as you can.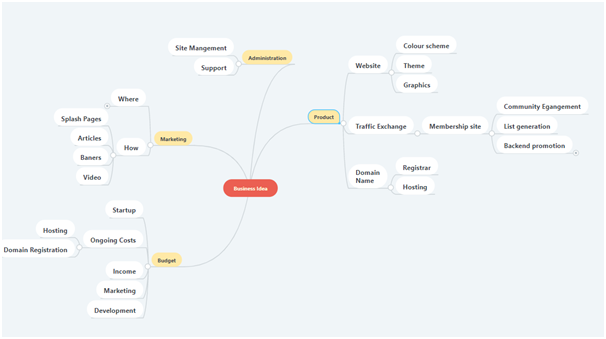 You can click on this image and zoom in
Once the plan is put in place then the infrastructure can begin. Groundwork is done so that proper support footings can be put in place. If this is done well,then the foundation is solid and the structure can be built with confidence.
It is well worth spending the time on this planning stage, it can save a lot of headaches down the track and ensures that you are well prepared.
It can be very tempting to just jump in and go for it but believe me when I say spend time, and be methodical, you will be far more productive. If you are devoting your time to creating your business and are prepared to spend a minimum of 40 hours each week towards it (Full Time Job) then you can expect your site to launch within a six week period.
I used the analogy of building a house above, and I will now use the analogy of Painting a house. If you do not spend the time doing the prep work, eg; paint removal, sanding, washing and getting a great surface to paint on, then the paint job you do will only have a short lifespan.
The same for business, without the preparation your business will not sustain and you will be back to square one, in fact worse, you will be trying to rebuild something that didn't quite work.
And as much fun as house renovation is, it's a nightmare when you remove that wall only to find that the previous build was shonky and nothing was square.
There are numerous mind maps out there, the above diagram was done using mindmeister which is an addon for Google drive. If you have a Gmail account you have google drive and google docs, this is a great way of creating documents for your business.
I use Google Docs, Google Sheets, Google forms and mindmeister a lot😊
Google sheets is great for creating a bookkeeping spreadsheet as well as a 'tasks to do' sheet
So the take away from this post is to make sure that you are prepared and keep track of everything you do and stick to the plan.
This is me in one of my early planning meetings, notice the thinking cap is well and truly on :)