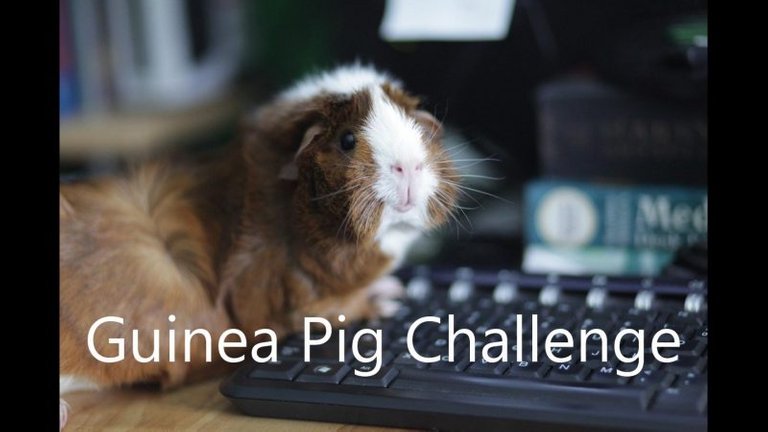 Determine Your Top 3 Goals
It is almost time to determine your top three goals for the Guinea Pig Challenge. If you started keeping track of your goals the day after @jongolsen announced GPC, you will complete your 14 days this Thursday, July 7, 2020. The next step is to determine your top 3 goals.
To help you determine your top 3 goals, I developed a spreadsheet. You can download the spreadsheet at https://tinyurl.com/guineapigchallenge. An 'How to Use' video is below and also available at https://tinyurl.com/gpc-video.
Since this is a one-time spreadsheet, there is nothing fancy about it. As you can see, you enter your goals on the left and the goal's priority in the columns to the right. There are 14 columns, one for each day you recorded your goals. The first day is easy. Enter your first goal in the #1 position and a '1' in the next column. Enter your second goal in the #2 position and a '2' in the next column. Just keep repeating until you reach #10.
The next 13 days are a little more complicated. If your like me you did not write down your 10 goals in the same order as day 1. You may not have even written down all the same goals. So for days 2 through 13, you need to check if a goal is already in the list on the left. If it is, enter the goal's priority under the appropriate day's column. For example, on day 1, your goal to get a 50' boat was #1, #3 on the second day, #7 on the third day. You get the idea every day a particular goal's priority could change. The 14 priorities for your 50' boat look like 1, 3, 7, 4, 3, 2, 2....
Again if you are like me, a new goal may show up on you list. If that is the case, add it to the bottom of the goals list. Enter the new goal's priority in the appropriate day's column.
After all 14 days information has been entered, press CNTL-ALT-SHIFT-1. This will sort the goals from highest priority to lowest. The top 3 goals are the ones for the Guinea Pig Challenge. I cannot guarantee the the sort macro will work for all spreadsheets. It did not work for me using LibreOffice. Please watch the video for the alternate method.
---
Posted from my blog with SteemPress : https://funnelspay.com/guinea-pig-challenge-spreadsheet/
---