A new year, a wonderful opportunity to begin afresh and renew our hope in the goodness of humanity.
Mary, our Australian family friend Christine, and I got up on that first day and bundled ourselves off on an adventure. We had decided the night before, New Year's Eve, that we would travel to the Museum of New Zealand Te Papa Tongarewa, Te Aro, Wellington. What a glorious way to kick-off the new year, a journey to our nation's treasured museum; the keeper of the Treaty of Waitangi, often referred to as the founding document of our country.
Off in the taxi we go, eager as punch, looking forward to viewing the exhibits at the museum. The taxi driver kindly drops us off at the entrance, just a few steps from the main door. I've been passed this place quite a few times before, yet had never ventured in. Just one of those many bucket-listed special places I got to get to in the journey of my life.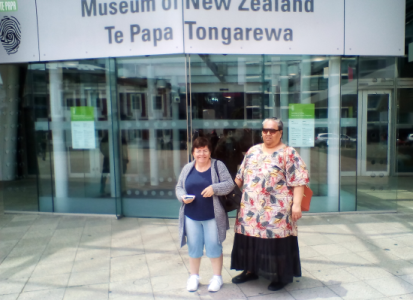 We entered the complex and immediately we were in awe of the professionalism on display. On the left, the gift shops with an amazing selection of arts and crafts for sale, mostly made by locals. Paintings, scultures, trinkets, and so much more.
Ahead of us were the large banners proclaiming that we have indeed arrived at our destination, inviting us to explore.
A quick squizz around the gift shops, then off to pick up the free map, and up the escalator to level 2 and into the first exhibit being Nature. In there, Te Papa has a lot of interactive displays, as well as marvellous items behind thick glass. A great place to bring the children to, a safe and friendly space full of really interesting stuff that'll keep them - and us adults too! - well engrossed. So many stories, portrayed in a variety of settings.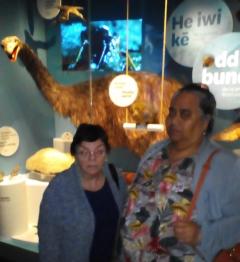 Not just framed bits and pieces, whole items on display. I got Mary and Christine up close and personal with a model of a moa, one of New Zealand's extinct animals. The first humans to call New Zealand home lit fires that drove these beasts to extinction. There's hope that one day, modern science will be able to resurrect these fine animals, and so many other organisms that have become extinct here. That's why places like Te Papa are important, they preserve the past in anticipation of another future life.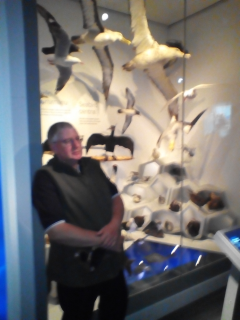 Then I spied one of my favourite subjects: marine birds found around the coast of New Zealand. This exhibit brought back memories of my time when I was in-shore commercial fishing in the waters from North Cape to Cape Karikari. The wilds of the very far north, a place of extreme danger when conditions turn against you, yet also a beautiful strip of coast with hidden sandy beaches, steep cliffs, rocky islands and coralled reefs, and wildlife in their natural environs.
Next room was full of really interesting geological information. There's the video of the Christchurch earthquakes back in '11 and '12, the story from the survivors, and the terrible things they had to endure. Still, they managed to get on with their lives as best as possible. Tales of courage conquering loss, encouragement that no matter what this new year brings us, never give up hope of a brighter future.
Then on to the other geological exhibits that formed New Zealand from the continent now known as Zealandia.
We're all getting hungry now, so time to leave this place of wonder and head back home. A pitstop at KFC Kilbirne to fuel our bellies; a celebration pack, a fitting end to the journey.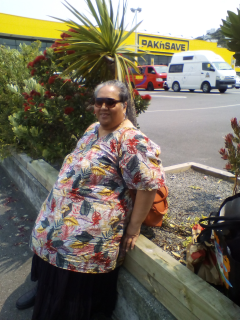 A quick walk around the corner, a breather stop by our corner dairy, Pak'N Save Kilbirnie; possibly New Zealand's cheapest supermarket. Home at last and a promise of more adventures to come this year. If that was the first day of Year 2020, I can't wait to see what tomorrow brings!
Morning has broken...
Ian Ballantine
Wellington, New Zealand
2 January 2020.
.. // - // - // - // - // - // - // - // - // - // - // - // - // - // - // - // - // - // - // - // - // - // - // ..
Join with me on ClickTrackProfit.com and get free training on how to grow your internet marketing business, including how to maximise your cyptocurrency accumulation. Here is my referral link: https://clicktrackprofit.com/ianballantine
.. // - // - // - // - // - // - // - // - // - // - // - // - // - // - // - // - // - // - // - // - // - // - // ..
Lyrics: https://www.azlyrics.com/lyrics/neildiamond/morninghasbroken.html
Playlist: