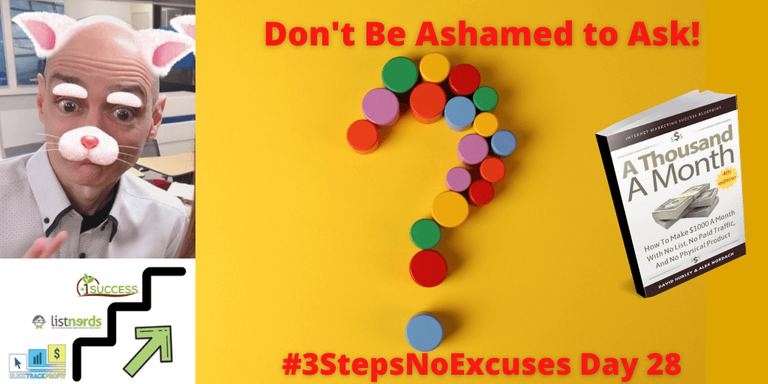 In the fourth scene of the first act of Shakespeare's "Measure for Measure," one of the characters, Lucio, says,
Our doubts are traitors,
And make us lose the good we oft might win
By fearing to attempt.
Step 3 Plus1Success: Ask!
An attempt may be as simple as asking a question, and yet we doubt that we should from a foolish fear of feeling foolish!
Step 1 CTP: Commenting and Blogging on CTPTalk
Likewise, some of us doubt that we have anything to blog about and so spend months, nay years in avoidance.
In my case, I don't have any trouble blogging on CTPTalk, but I notice that I've been dragging my feet when it comes to live broadcasting, which is one of the "steps" on the #3StepsNoExcuses journey that I have not yet taken...
The Excuser King
Well, I'd said that I'd "go live on YouTube" today, and intended to do so this morning, BUT (spot the "excuse") I have suddenly had to take on a couple of extra classes at one of the colleges where I teach as a member of staff has fallen ill and won't be teaching for the rest of term.
So I spent this morning going through the curriculum of each class to work out what on earth I am supposed to do with the students!
In one case, his class will be merged with mine - giving me 46 students, half of whom are one week behind the rest of the class. What fun!
In the other case, I suddenly have to teach a course that I've never taught before, so that will be an interesting challenge. Happily, there are only about eight students and they are relatively high level third and fourth years, so they probably know what they are to do better than I do. :)
After a lunch of ramen and chinese dumplings, I had, like Bottom in A Midsummer Night's Dream, "an exposition of sleep come upon me" (but sadly, no Titania to sleep with) and so, in short, live-streaming was replaced by some pleasant dreaming for today!
Step 2 Listnerds: What Have You Noticed So Far?
Well, one thing I've noticed is that I have not been able to beat my first email of the campaign! My open-rate and CTR have dwindled. Time to check that first headline again!
That's it for today! Two more days to go! Will I manage to go live on YouTube? Don't ask!
Cheers!
David Hurley
#InspiredFocus (?)