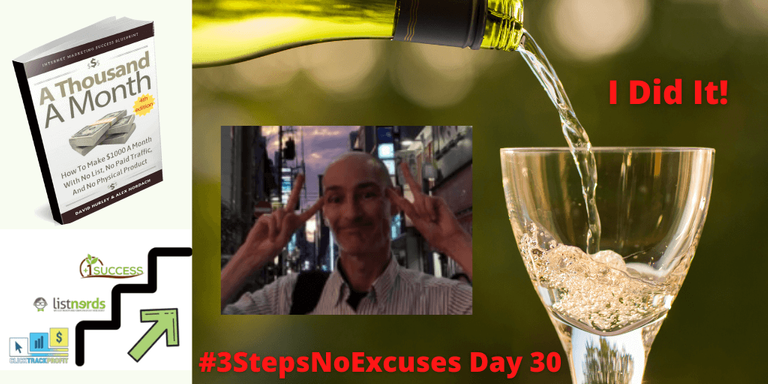 Huzzah! I finally made it to Day 30 and the completion (more or less) of the #3StepsNoExcuses challenge!
Today I watched the CTPTalk training videos inside the ClickTrackProfit members area and then sent an email to about 1,300 members of Listnerds with this Subject line:
Who Else Wants To Win Free Bitcoin Every Day? Now You Can...
It's too early to see how well it has done.
Then I concluded the journey by watching the 30th Plus1Success video, which calls on us to review the journey and do it all over again.
Back on Day 1 it was suggested that we get a notebook and jot down everything that we do or learn each day. I started to do that, but dropped it in favour of blogging about my experience here on CTPTalk and then repurposing the content on my blog https://davidhurley.net a few days later. So that is how I am reviewing the progress I made over the last 30 days.
My Progress Report
I didn't get around to recording my stats at the beginning of Day 1, so I cannot say exactly how much CTP and Hive I earned over the last 30 days.
However, I started with around 29,000 CTP and now have 30,853, so a gain of around 1,800 or so.
I only had around 360 Hive and now have 373. Until recently my Hive earning rate was very slow, but it has picked up over the last 30 days so that now I expect to earn just over one Hive a day (including HBD), which is a nice improvement. I'm sure I could earn more if I dedicated more time and effort to blogging directly to a couple of the communities on Hive.blog
For me, one of the big benefits of working with projects such as #3StepsNoExcuses or last year's #2020Vision is that they help me to focus on creating content much more consistently than usual. It's nice to get a bit of recognition for it too!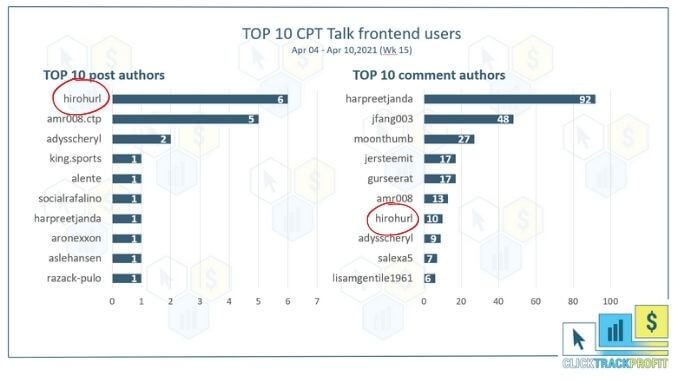 Thanks to @pjansen.ctp for keeping us updated with the latest stats for CTPTalk:
https://ctptalk.com/hive-167922/@pjansen.ctp/ctp-weekly-stats-report-6s7amm
New Ways To Get Seen
I started a TikTok account and posted a couple of videos on it. The focus will be more on my chess training and English language teaching activities than on crypto-related projects, but it was #3StepsNoExcuses that prodded me to get started.

I have opened an account with Restream and set up one of my YouTube channels for live streaming. Now, I haven't actually gone live yet, but I will do...
The Moment I Realize I'm About To Livestream...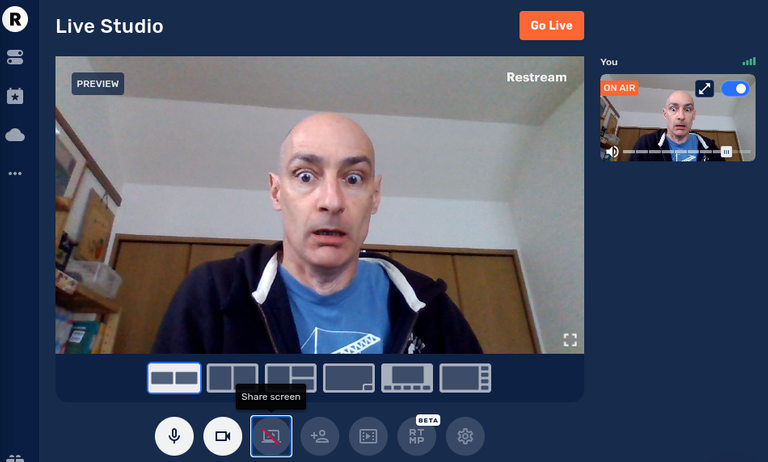 He, he, I keep saying that I "will" do it! It is one of the BIG steps that I have not completed yet. However, I don't think it is too big a hurdle for me to jump over as I am fine with creating video content. Yeah, doing it "live" IS a bit of a challenge, but it's something I really want to do, not just on YouTube, but also with a chess channel on Twitch...
Reading Project Completed
Another thing I did was to re-read "Ask" by Ryan Levesque. I completed the book yesterday afternoon. It is all about how to improve your sales by creating questionnaires and working with the data and insights they yield.
There is a section in my co-authored book A Thousand A Month about using surveys to get an insight into your market, in a section written by Alex Nordach, so it is something I'm familiar with and want to set up to help improve my own marketing campaigns.
Expanding And Strengthening My CTP Network
I think this is one of the biggest gains of taking the #3StepsNoExcuses challenge. I increased and deepened my engagement with my existing network of friends here on CTP, and I also got to know and engage with several others who were "new people" to me.
In addition, I joined the CTP Inner Circle and am hoping to be able to make it for some of the weekly Zoom webinars. @jongolson hosts them on Wednesday evenings so that will around 8am on Thursday mornings for me, so not too bad a time for me if I am not teaching in the morning.
What Next?
I am going back through the #3StepsNoExcuses challenge by reviewing each day's activities as I repurpose the content for my blog.
Of course, I want to keep on creating content here on CTP Talk as well as posting to a couple of communities (chess, Lego) on Hive.Blog.
My next project will be to resume work my "crypto futures trading" funnel by creating a $7 training manual and a free email training series.
Cheers, and thanks for following or accompanying me on the #3StepsNoExcuses journey over the last month or so.
David Hurley
#InspiredFocus