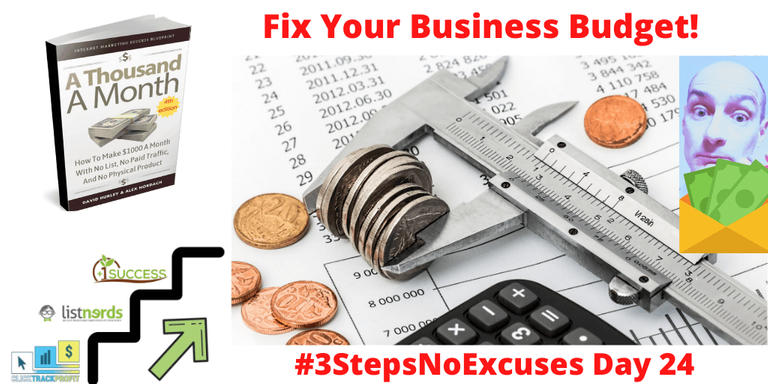 Today we have three quite different steps to consider: budgets, people and skills, so let's dive right in...
Step 1 CTP: Fix Your Business Budget
For me this is the biggest lesson of the three because when I first got started with affiliate marketing I didn't have any budgetary discipline at all!
As I saw it, back in 2007, I had to spend money to make money. Well, I was 50% successful in that endeavour!
However, I didn't give up, and a year or two later (it took a while) I realized that an important step on the way to making money online was the ability to control your expenses and work within a fixed budget.
I can't say I always stuck to that, in fact I made some expensive mistakes well into the next decade. However, for the last few years I have had a pretty stable budget, especially once I had fixed up my "top five programs" which I mentioned in yesterday's blog post:
https://ctptalk.com/ctp/@hirohurl/3stepsnoexcuses-day-23-how-my-top-5-programs-helped-me-escape-the-vortex-of-doom
Here's a rough guide to my monthly online business budget...
Wealthy Affiliate (High quality hosting for my Wordpress blogs, keyword research, stock photos, in-depth online business training): $25 per month (paid yearly)

LeadsLeap (autoresponder, link tracker, pdf and image file storage, effective online advertising service): $27 per month

Prosperity Marketing System (Funded proposal system): $12

Hosting service for EliteDownlineBuilder: $6.95

e-Junkie (e-book sales platform for A Thousand A Month and my other e-books): $5
TOTAL MONTHLY EXPENSES = $75.95
I also have a bunch of domain names, so I guess the total monthly budget is around $80. Pretty close to Jon's original "Pizza Plan."
NOTE: I have a lifetime membership of ClickTrackProfit and Listnerds, so no ongoing fees in either case. As for SFI, it is effectively a "self-funding business" that yields a profit every month from which any expenses are drawn.
Step 2 Listnerds: The Names On Your Mailing List Are Real People!
What a shocker! But let's face it, the marketing talk of "leads" and "prospects" tends to obscure the obvious truth that each of your subscribers is a unique person who has joined your list to receive something of value from you.
One BIG way you can repay that trust is to treat each of your subscribers with the respect they deserve. Reach out to them, get to know them. Engage with those who reach out to you.
Step 3 Plus1Success: Learn A New Skill
One new skill that I have been learning over the last three weeks is related to the previous point about getting to know your subscribers.
Early on in the #3StepsNoExcuses we were called on to read a book, so I started reading "Ask" by Ryan Levesque. Okay, it's the second time I've read the book, but the first time I read it I didn't take notes and the lessons did not stick...
This time round, however, I've read it more carefully and taken a lot of notes. The skill-set the book teaches is all about engaging with your list subscribers so as to better understand them and offer them better value.
The skill set includes: (1) setting up the questionnaires and the email series that flow from them, (2) analysing the results and making sure people are engaged with in a meaningful and appriate way, and (3) understanding how the technical resources to set up the process.
I want to start implementing these techniques in my next email marketing campaign.
Cheers for now!
David Hurley
#InspiredFocus