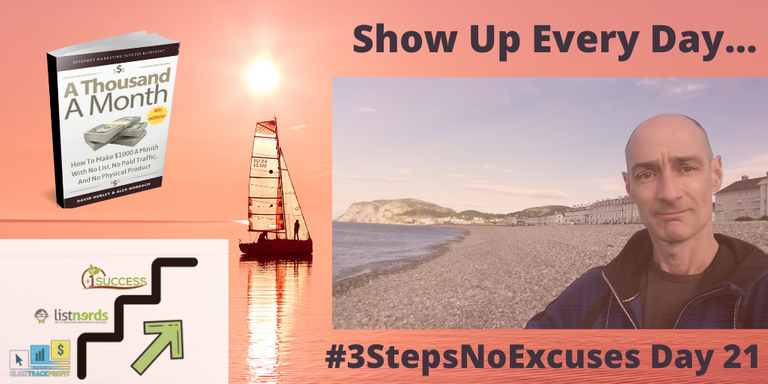 Step 1 CTP: Show Up Every Day
This tip is so basic - and yet it is the key to everything - that there is almost nothing to say about it! As @jongolson put it,
"It's literally you, showing up, putting in the work...Every day!"
Ah, so there is a second part to "showing up," and that is, "putting in the work"! It would be great if you could just "show up," drink a few beers, and have everything work for you, wouldn't it!
The cool thing about "showing up" is that you don't have to be a genius to succeed!
How "Showing Up" Helped Micheal Bloomberg Find Success
A couple of days ago I happened to watch this video by Evan Carmichael about the "7 Rich Habits" that you need to try if you want to succeed, and I was reminded of Michael Bloomberg's story about how he built relationships simply by "being there".
Okay, his perspective is that he "outworked" everybody, but for me the real nugget was not that he was the hardest worker, but that he showed up enough to build some key relationships that contributed to his success:
Step 2 Listnerds: Ask Questions
This task came at a nice moment! Just in time for the launch of my new campaign on Listnerds.
Today I began promoting my "Beginners Crypto Course" so I had to write a fresh email and subject line.
Here's the question I included in the subject line:
Who Else Wants Free Crypto Every Day? READ THIS To Get The Dope!
My thinking:
"Who else..." asks a question and implies (truthfully) that other people are already doing whatever it is the question is about.

Free crypto - no need to spend money. Everybody likes "free" stuff. And it's not just Bitcoin that's on offer...

Every day - not just a one time freebie, but a daily supply...

READ THIS - CTA included in the subject line. In this case I chose "read this" instead of "click here" because if you are opening emails inside Listnerds, you have to click a green button with the work "Read" on it.

To Get The Dope! - at first I was going to use the word "lowdown" but "dope" is only four characters and seems a bit more contemporary.
It's too early to look at the stats, but I've already got one opt-in from two clicks with this Listnerds mail so far...
Step 3 Plus1Success: Attend A Live Event
Attending a live event in person is obviously not so easy to do right now. Even if there were an event that I wanted to attend outside of Japan, there would be no guarantee that I'd be allowed back into the country even though I have permanent visa...
However, I do try and attend online events such Crypto Mondays and Thursday Night Live, hosted by Jon and Blain.
My Experience of Live Chess Events
One area where I have experienced the power of "live events" is chess. In the summers of 2013, 2016, 2017 and 2018, I took my daughter to the UK. While she was attending a summer school I went off to attend the British Chess Championships.
In three of those years I took part in a minor open competition, but beyond that the real value was in making friends with some of the best chess players in the UK.
There I was, a bloke who didn't belong to a chess club, had no experience of competing in chess tournaments, and who didn't even have a chess rating, hanging out with people who were either highly rated club players, or who made their living by playing and teaching chess.
Their passion for the game, and their intensity and depth of analysis, their ability to rattle off lengthy strings of moves was deeply impressive and is something I seek to emulate at my own level.
Yes, live events rock - when they are available!
Cheers for now,
David Hurley
#InspiredFocus