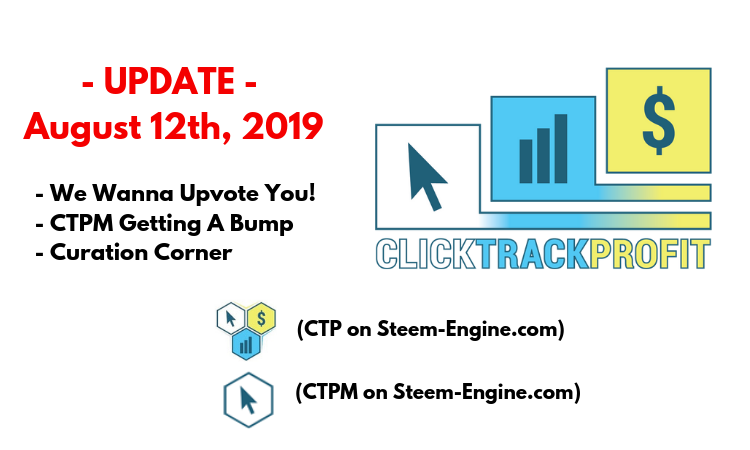 The Juicy TL:DR
We need more content on CTPtalk.com We want to upvote YOU!

CTPM price increase is coming in 24 hours

Curation Corner

I Made An Infographic....Kinda ;)
---
It's a brand new work week :)
And we're going into the 3rd week of the CTP re-launch!
Just a few notes today to help you have a fantastic week here at ClickTrackProfit and the CTP Tribe on STEEM!
We Wanna Upvote You!
We have some pretty relaxed rules when it comes to our content that is fair game here on CTPtalk, and to be honest...We need more creators :)
We're looking for content creators that will talk about:
Affiliate Marketing
Online Business
Social Media Marketing
Investing
Personal Development
Success
And here' the best part....
We have this account, staked up with some CTP Tokens, looking to give you guys and gals some very heathy upvotes. Our curation team is literally...WAITING for your content and would gladly give you an upvote...To help build awareness for our condenser and little tribe :)
We will be sending multiple reminders to the CTP members themselves as well....To get busy creating and curating :)
CTPM Is Getting A Bump In Price
Within the next 24 hours, we WILL be raising the price of the CTP Mining Token. We were going to raise the price last night but wanted to confirm some things with experts a lot more knowledgeable than we are when it came to this stuff.
Just to make sure we wouldn't mess thing up by playing with the token price of the miners...
But it's been confirmed to we're good to go....
We want to make sure YOU get full value and potential of your purchases and continue to give you the max value for your CTPM.
We are also looking into burning tokens on both CTP and CTPM....But as we're new to this, we want to make sure we are doing things right so that we have a hugely successful project years from now!
Curation Corner
This post blew us away!
=> What Is The Best Tool For Affiliate Marketers?
Written by @achim03 , he goes into fantastic detail on how Steem could be the perfect tool for affiliate marketers. not only to build relationships, but also for straight up marketing purposes :)
One of the best articles we've read about how Steem and CTP can benefit each other! A must read.
Look Ma', An Infographic.....Kinda
I love these things, and created this one to give people a brief history of ClickTrackProfit and all it's features...
Just in case you had any questions about what ClickTrackProfit is and what we've done in the past...
Hope this sheds some light on our project and mission...To help affiliate marketers around the world :)
---
Thank for reading and please drop by anytime into our Telegram and or Discord groups! We're always around to help and answer any questions!
The Union Is Here!
Blockchain meets Affiliate Marketing....
=> CTP Condenser - https://www.CTPtalk.com
=> CTP Token on Steem-Engine - https://steem-engine.com/?p=market&t=CTP
=> CTP Miner on Steem-Engine - https://steem-engine.com/?p=market&t=CTPM