Morning fellow CTP Talkers and Steemians,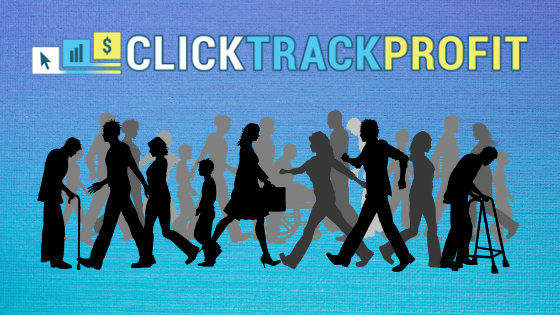 *made with canva, graphic from hiclipart
We must push on and have persistence in what we do.
I know it is a hard time in the world right now, people are panicking, some people are not. Some people are calling for stronger measures some are not. COVID-19 got the world on Edge. All major league sports in Canada have been halted. Hockey, Basketball, Soccer, etc. So what are we to do, I can tell you what I am doing.
I am pushing on. I am adapting in my off line life but my online life (besides writing about COVID-19) continues as normal. And you know how fantastic that is?
Among all the doom and gloom, I get a message yesterday along the lines of "Oh I joined you Click Track Profit, hope that helps you".
Damn strait it does, it helps me mentally more than anything else. It shows that persistence pays off. Now of course I hope this person will check out Click Track Profit and find out how wonderful it is. But if not, oh well, it made me feel damn good that everything I am doing here, people are reading, taking heed. It is working. It is the best feeling in the world.
So again, and I have been doing it a lot, thank you to my online community, and thank you for people who take the time out of their day to read and view my videos. Great feelings.
So with the markets in a free fall in the real world and online in crypto let me give it a look and a few thoughts.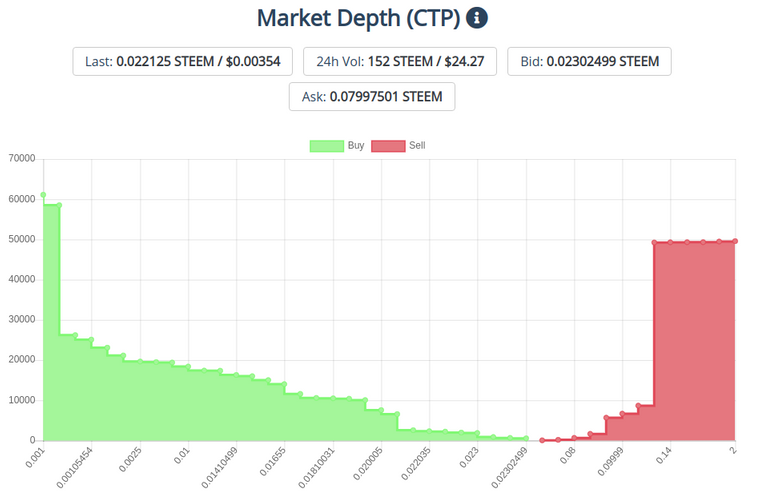 The CTP token is holding its own against Steem and trading is still doing well. This should tell you the faith people have in CTP Talk & Click Track Profit.
Steem might be down to $0.127167 USD (-30.93%) but the satoshi side of it is holding 0.00002390 BTC (-3.47%)
Same with Tron: $0.009738 USD (-27.85%) 0.00000182 BTC (0.37%)
Bitcoin is being dumped, people want cash for what is going on in the world. I cannot blame them but I am hold and maybe buy.
$5,347.95 USD (-28.12%) I did see it in the 4K mark once.
It is not all doom and gloom. One thing is for sure, the price of Bitcoin would not drop if people did not buy it. If you are selling low then someone has to come in and buy low for the price to drop.
When we get though this challenge in the world with COVID-19 I believe people that are buying lowing are going to see some great profit. Just remember these are my thoughts and not advice. Use your own judgement.
And lastly my COVID-19 graphic.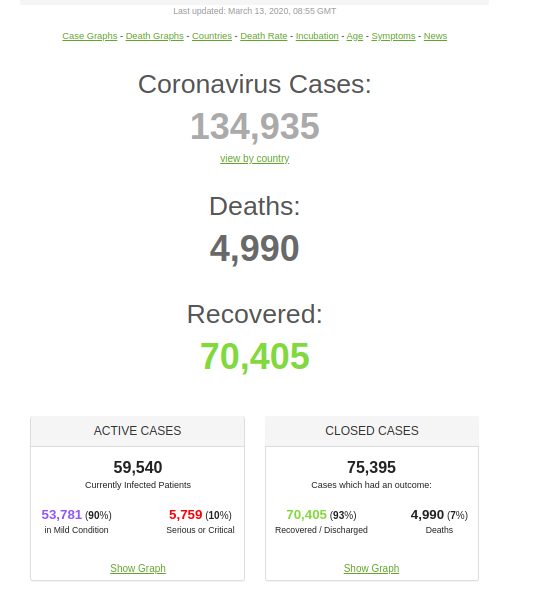 *(https://www.worldometers.info/coronavirus/)
It was a bad day yesterday for the virus. The worse yet I think.
Stay safe everyone, live online, work hard online during this times.
---
Don't forget you can follow me on twitter: Join me on Twitter
Get FREE crypto at CoinBase: Free Crypto



Have a great day all.
Bradley