The Last Day of this challenge is just the beginning.
I have learned so much in the last month that it is hard to know where to start with this blog post.
I think I will start with the 3 Steps to Success

You can find it every day at Click Track Profit on the main page in the lower left hand corner.
It is a good place to get ideas for something to do every day.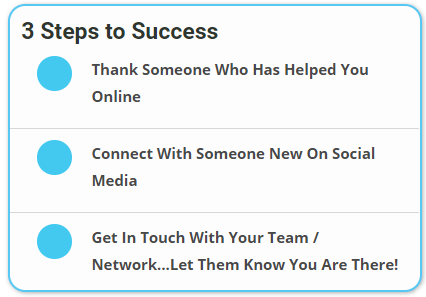 I would like to thank the CTP community for all the support you gave me.
It really helped when I was feeling discouraged.
This really is one of the most supportive communities I have ever been involved with and I feel hugely blessed.
I want to give a special shout out to Blain Jones and Eliana Gomes for the extra feedback and support.
Also there are so many others that took the time to comment and engage on my post's.
I have learned so much from all of you.
I know much more about Crypto than I did before. I really look forward to continuing the good habits that I am developing.
This challenge was about breaking bad habits and making good habits.
I have to say that this approach works.
The biggest one I learned was the importance of consistency.
The thing that I worked on the most this last month was writing emails and tracking them.
It took me a while to get it going but in the past week I got 11 signups to the campaign I started.
It is so cool and I also know where the clicks came from by honing my tracking skills.
I have been using Leads Leap for all the safe list mailers and Hits Connect for all the traffic exchanges
I have definitely made progress.
I will finish all of the suggestions, listed above, in todays 3 Steps To Success by the end of the day.
One last thing.
Todays challenge was to keep a journal.
I have to admit I did not do that in the last 30 days, but that is changing today.
I have learned that it is good to keep track of everything!
All the tracking, the ideas and the learning that needs to be done. not to mention the need to have clear goals.
That will be my reason for writing in my journal every day from now on.
It has been wonderful.
I intend on doing this challenge again in a week or two.
Right now I need to integrate everything I have learned.
Peace and Love
I wish success for all of you!
Alente
P.S. If you want to try this challenge here is the link to the free Ebook.



3 Steps No Excuses