Steem Basic Income
Steem Basic Income is a social experiment to bring a basic income to as many Steemians as possible. Members join by sponsoring others into the program. Steem Basic Income is delivered through providing regular upvotes to member content.
Enhanced Votes Graph
We last published this graph that 'maps' the interrelationships in our member pool seven days ago. Here is our graph and analysis from last time we published it:
https://steemit.com/steembasicincome/@steembasicincome/enhanced-votes-graph-and-member-spotlight-eturnerx
And here is the graph from this week. It only shows people that regularly upvote each other or @steembasicincome, or have high subscription levels for regular upvotes that are too big for our smaller voting accounts to deliver. That makes sense, because we have over 4800 active members that are voted by ten different accounts. All of those interrelationships would be too much for this chart.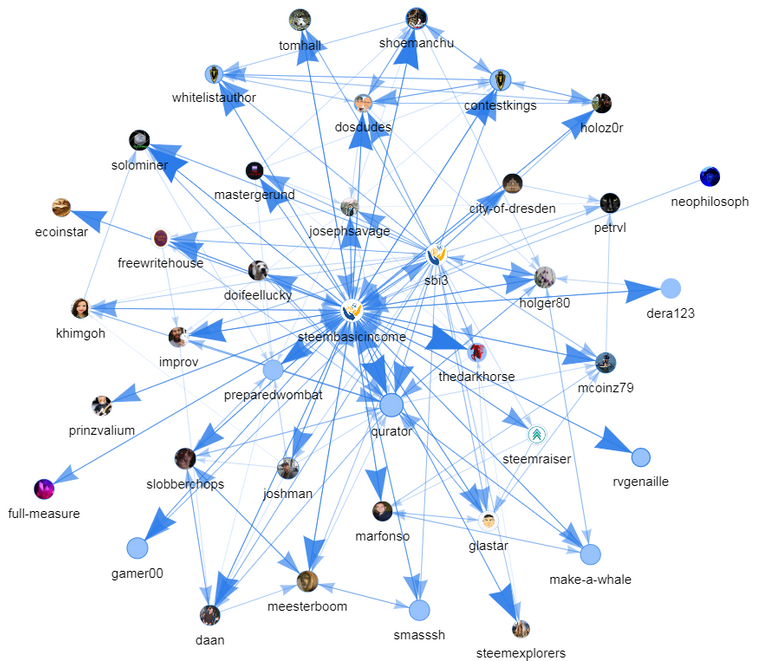 (img source http://www.steemreports.com/votes-graph-enhanced/?accounts=steembasicincome)
---
@thedarkhorse was first enrolled in Steem Basic Income 16 months ago, in April 2018. He started using it in support of his @pifc and @minnowbuilder programs shortly thereafter. Through his initiatives, scores of new Steemians find encouragement and many earn their first SBI through those efforts.
We are glad to have met @thedarkhorse and have had many Discord conversations with him. He doesn't post often, but when he does you will want to see them, so check out his feed!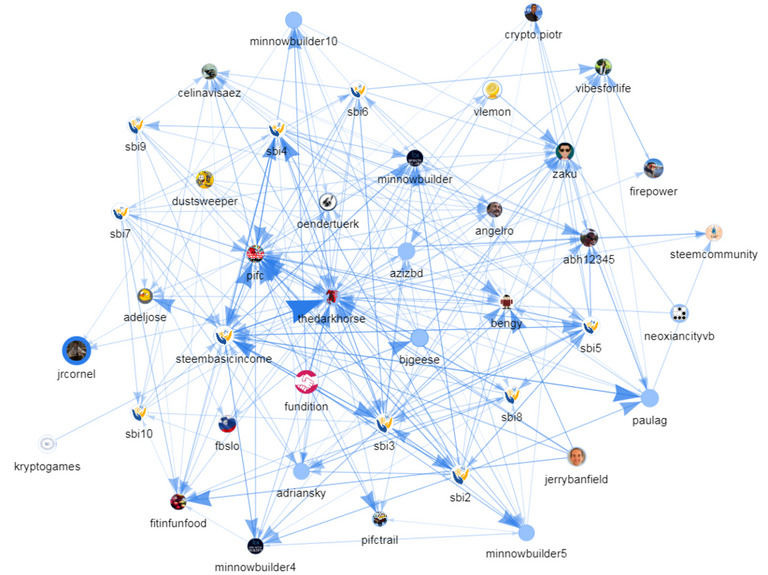 Change the account name in the Steem Reports link to any account you want to look at:
http://www.steemreports.com/votes-graph-enhanced/?accounts=eturnerx
Previous Member Spotlights
Enrollment
If you want to get involved, or to increase the level of basic income that you receive, enrollment is pretty straightforward:
Just send 1 STEEM to @steembasicincome. Include the name of a Steemian to sponsor in the transaction memo (preceded by @). You and the person you sponsor will each receive 1 unit in the program. You can sponsor any active Steemian (except for yourself), it does not have to be a current member.
Please check out our full transaction memo guidelines and then let us know if you have any questions.
https://steemit.com/busy/@steembasicincome/transaction-memo-guidelines
The official currency for enrollment is STEEM. If we choose to accept SBD without refunding it, you do not receive extra value for it. Enrollments are processed automatically every 144 minutes.
Questions about Steem Basic Income?
Most questions are addressed in our
FAQ
or in these
helpful resources
. If you still have questions, ask in the comments section or join us in our
discord channel
.